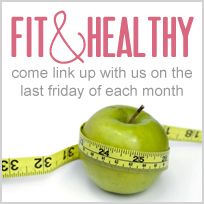 I decided at the end of March that I would start this Fit & Healthy link up.
Like I explained in my last Fit & Healthy Friday post, this link up
is for you to set 4 goals for the next month. On the last Friday of each month
you write up a post setting your 4 goals for the next month & updating
everyone on how you did with the last months goals.
My APRIL goals were:
1.

Walk 4/5 days a week for at least 30 minutes with Kenzie

.
2.
Do my work out video or just exercise 3 days a week
3.
Eat 3 HEALTHY meals & 2 snacks. NO snacks/junk [daily]
.
4. No eating out.
For the most part i FAILED! I am very disappointed in myself.
These were achievable goals I believe.
I even tried to change my diet, & the hubbys too.
The 2nd week of April I did pretty good, & even lost about 4 pounds.
But gained some of it back.
Though I never worked out any in April like I wanted.
I walked an okay amount, but not as much as my goal.
No eating out did not work this month.
MAY GOALS
1. Walk or exercise everyday.
Something that gets me off my butt.
2. No junk. At all.
3. Eat fruit daily.
4. No eating out.
Current weight is 140. "/ waaaahhhh!!
Will update May 31!
Want to join in. Check out this POST to learn more.