Hey That Southern Mama readers, I'm Kerri and I blog over at Hey Kerri Blog. While Ash is on her much deserved week break, I get the chance to share with you all 3 reasons as to why I'll unfollow a blog. We all often struggle with balancing juggling jobs, having a life and a blog all at the same time. A couple weeks ago, I decided to put my blog on a set schedule of posting new material every M, W & F with the exception of random posts in between. I can't explain enough how this has helped my blogging anxiety go way down and I'm happy to see that some other bloggers are doing the same with us all having the same concept: fewer posts with much better content. But that's not the only way I was feeling overwhelmed with blogging - one of my favorite parts about having a blog is interacting with other bloggers and following their sites almost daily. Well, if you were to look at my BlogLovin' feed right now you wouldn't think that - the amount of unread posts I currently have is crazy. Is it driving me bonkers? No because it's only simple for me to hit *Mark All As Read* and move on with my day but what's the fun in that?
I enjoy reading blogs just as much as I enjoy producing content for my own. I like taking the time out of my day to read what everyone else is up to and leave a thoughtful comment, they took time out of their day to tell us something so why not take the time out of my day to interact back? As I was struggling and just couldn't seem to find enough time in the day to get through my feed and my favorite blogs were getting lost in the mess - I decided I needed to do something. I've only had my blog for under a year but I've been reading others for much longer and I've never unfollowed any. Well, it's time to put my big girl panties on and let go of the old to allow space for the new. While I don't necessarily want to be the person to make someone's follower count go down, I've also grown apart from the blogs that I've loved two years ago.
Also, is your number of followers really that important if the ones you do have give great feedback and interaction?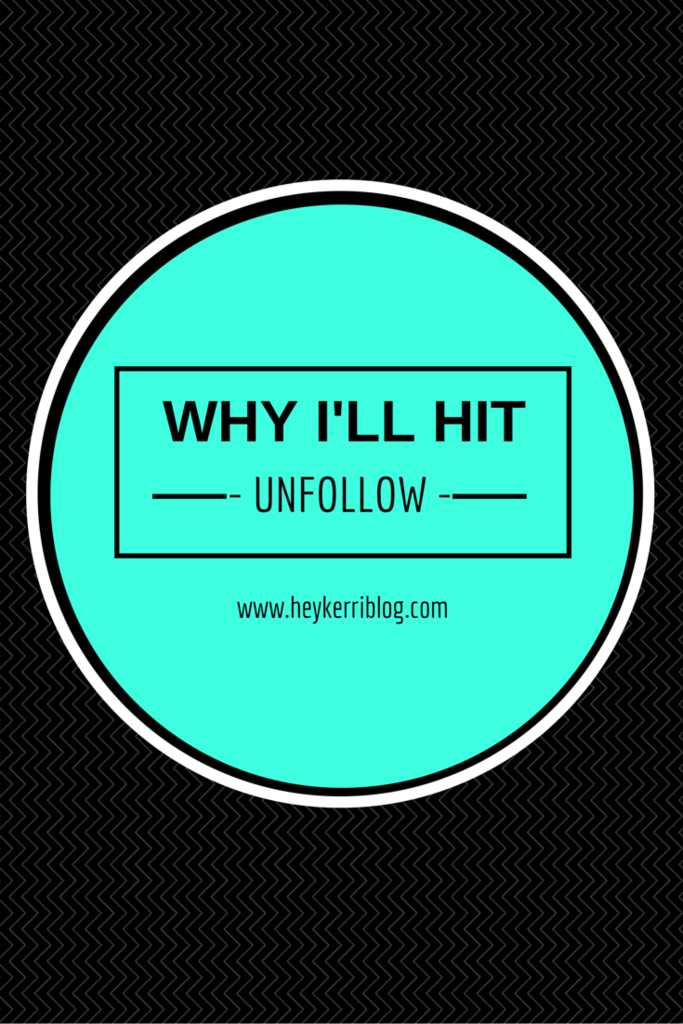 | EVERY SECOND POST IS SPONSORED MATERIAL |
You know what I'm talking about - when 75% of their posts start with "This shop has been compensated by ...". I swear, I do the biggest eye roll of life each time I read that opening sentence. Now, don't get me confused here - there is nothing wrong with sponsored material. Heck, I even do it myself because why not get a cool product or a couple of extra bucks for doing something that you love? My, I guess you could say trust issues, come into play when it seems that more material is sponsored than not. When it comes to the fine line of I'm second guessing if you truly like the product or if what you're telling me is complete bullshit, it's time for me to evaluate if I truly like reading your blog.
| YOU DON'T RESPOND TO ANY OF MY COMMENTS, OR ANYONE ELE'S |
Ahhh, I love this point. I find it funny that so many bloggers don't see this, in order to attract and keep a true following of readership you must communicate back - your blog duties for the day do not stop once you've hit publish. Read that, remember that and preach that. If you can't commit to following up with comments, emails and other forms of daily interaction that come with having a blog then maybe you should take a step back and ask yourself if you really are ready to start one.
| I'VE GROWN APART FROM YOUR BLOG |
It's not you, it's me. Personally, this is the saddest and hardest reason to get myself to press unfollow. There are some blogs that I've been following and reading for over a year now and I've saved countless posts that they have published but their new material and the direction their blog has drifted into is quite frankly not something that I'm interesting in reading. There I said it. I'm 23 years old; I really don't have any desire to read mommy blogs. Yes, I follow a few because that's not all they blog about and I truly do enjoy their blog but even still, those are sparse to come by as well.
Do you organize your BlogLovin' feed into categories? Have you ever felt overwhelmed with the amount of blogs you follow?
Thanks again to Ashley for allowing me to take over That Southern Mama today, talk soon!
Kerri,
Blog | Twitter | Instagram | Pinterest