Hey blog world I am back! I have just been busy and not really feeling the blogging thing the past week or so. Today I am linking up with Jasmine over at Classy, Sassy, & A Bit Smartassy for her Monday Coffee Talk link up. We discuss our top 3 goals for the week.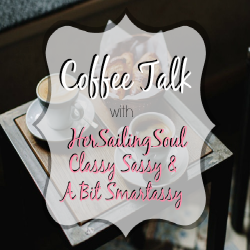 1. Post at least 4 times this week on the blog. I have been slacking ever since we moved.
& I just have not really had anything I felt needed to be posted.
2. I have said before that I plan on opening up an Etsy shop, so I really want to get some more
product ready for opening.
3. I am working on getting my career diploma ONLINE for Medical Administrative Assistant,
& it has taken me forever to get this done since having Mina. So this week I want to take 2 tests.
What are you top 3 goals for this week?