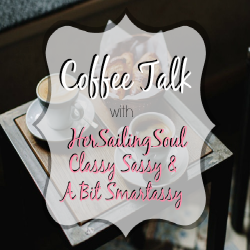 Happy Monday blog world! Hope everyone enjoyed their Father's Day weekend! I did, I will recap tomorrow, because today is for weekly goals. I am linking up again with

Jasmine

for some Monday Coffee Talk.
+ Post on blog 4 days. I only did 3 posts last week.
+ Work on product for Etsy shop. Nope.
+ Take two tests. Prepared one test for submission. I will be submitting it today, and starting the second.
I was a slacker this past week.
1. NO JUNK OR SNACKS. I have been eating VERY unhealthy lately. I have yet to loose my baby weight, & it is now snack cake fat! :P
2. Read Bible everyday. I have been trying to catch up on She Reads Truth.
3. Finish my book, Make It Happen. These days it seems to take me forever to read a book. I may go a week or so with out even picking it up! I have a stack of good books waiting to be read.
What are your top 3 goals for this week? How do you stay motivated to accomplish them?