Hey y'all! Hope everyone had a wonderful weekend! I know I did. My husband's sister had her baby! New baby lovin's <3 & my youngest daughter is starting to crawl! How exciting! Anyway, I am starting the week again talking goals. I am linking up with Jasmine for Monday Coffee Talk.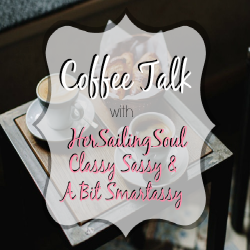 Last week's goals:
Come up with a game plan for my blog I did not really do much with this. It is going to have to be my goal this week too!
Etsy Shop Design & projects I did finish a few things, and get a few more going. I am not where I want to be on things but I am getting there.
STAY OFF SOCIAL MEDIA SOME I did stay off social media all weekend.. EXCEPT I did respond to a few emails and read a few blog posts. But it was in my down time. Over all I am pretty happy with myself. It was awesome getting to enjoy my weekend without my cell going off all the time with notifications. I was not checking and scrolling my social media accounts through out the weekend, so I was able to enjoy my babies, hubs, family, and free time more. If you have not tried staying off social media for the weekend, you should! Also, I still have a deactivated facebook! :)
This week's goals:
Set blog weekly schedule & work on organizing my blogging. I need to set a weekly schedule and get a list of posts at least a few weeks worth planned and drafted. I want to plan one day a week working on a few posts and get them scheduled. Right now I am a hot mess when it comes to organizing my blog related stuff & replying to comments and emails. I seriously need to get my butt in gear!
No junk food. & we are back.... I did good for a few weeks. But now I am back to eating whatever I want! I am never going to lose weight if I do not eat better.
Take 2 tests. I feel like I will very finish this online schooling thing. I NEED to take at least two tests before I end up behind & have to spend more money to extend my deadline. LAME.
What are your top 3 goals for this week?